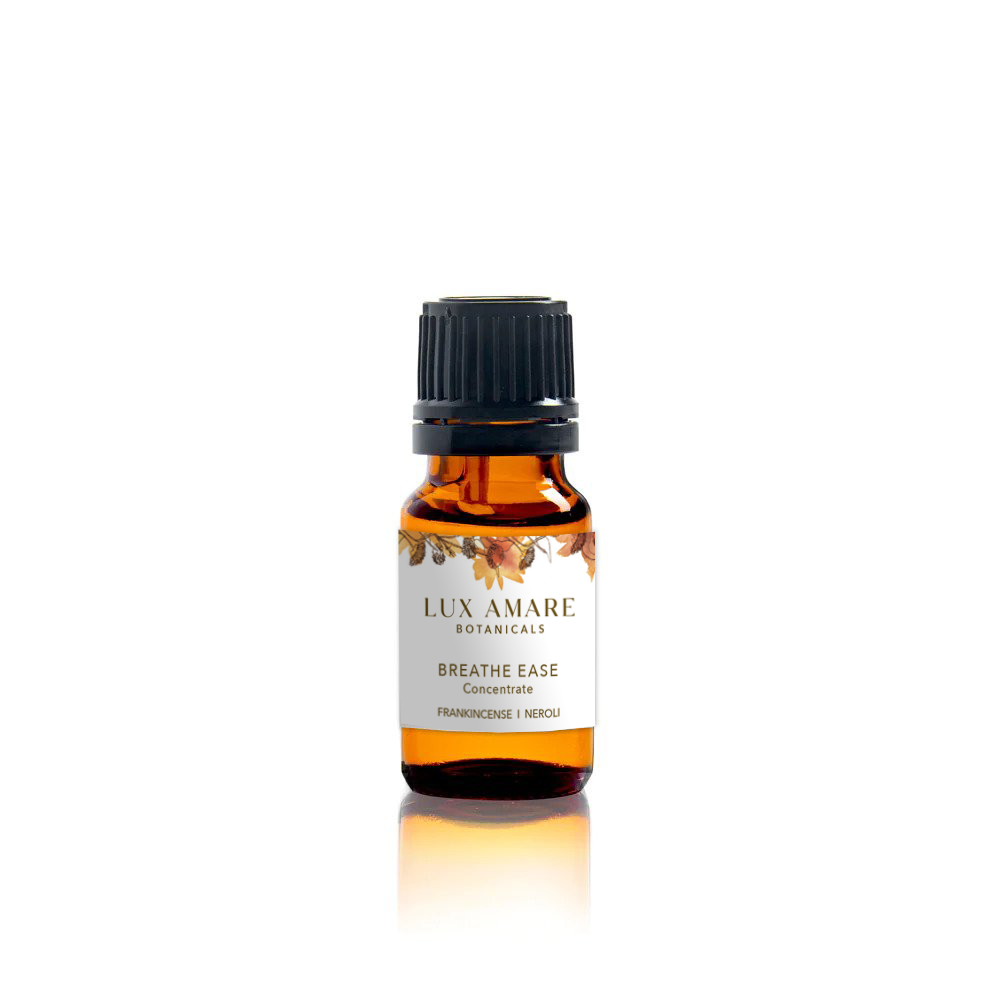 Description
Benefits
Concerns

Ingredients

Testimonials

Options

Breathe Ease was created to support those suffering of symptoms from asthma. Our advanced formulation contains essential oils known for their antispasmodic as well as antidepressant properties.
This special blend will slow and deepen the breathing as well as have a very calming effect on the emotions. It's anti-inflammatory and anti-anxiety action provides soothing and relaxing support for the bronchioles while uplifting the spirit.
Anti-spasmodic
Anti-depressant
Anti-inflammatory
Anti-bacterial
Asthma symptoms due to allergies, stress & anxiety
Bronchial distress, congestion
Proprietary blend of seven pristine flower, herbal and resin essential oils known for their calming, anti-inflammatory, healing and anti-spasmodic properties.
My kids have allergy induced asthma and we use BREATH EASE daily while allergies are present. If there is a respiratory reaction then I highly recommend the Breathe Ease!
I suffer from asthma and allergies. I use Lux Amare Breathe Ease for the asthma and the Allergy Relief for allergies. Both have worked AMAZINGLY!!!! Thank you so much Lux Amare!!!!
Breathe Ease is wonderful! Honestly I feel the Breathe Ease itself is also calming!
My two sons have asthma and with my baby we can't use an inhaler on him (not to mention I would want to avoid steroids as much as possible)! My baby was coughing and coughing, he couldn't sleep at all. Same with my older boy who starts hacking a lung as soon as he runs or gets sick. I started using Lux Amare Breathe Ease and WOW! It helps amazingly! For my older boy I use it if I know he is gonna be active and it lessens his reactions. With my baby I use it everyday especially before bed and he finally sleeps at night! He only coughs a little. When before we would be up all night and having to prop him on my body. Anyways it really helps a lot and it's natural.
I used this when I was having an asthma attack. It gave me relief within minutes. Great product.
With the help of Breathe Ease I have almost completely weaned myself off of the medication I have been using to control my asthma since I was in kindergarten!
Hello! Just wanted to give you an update on James. He's pretty much dairy free (with the exception of the few bites of Noosa yogurt he steals). We have been using the Breathe Ease and Protection Concentrate am and pm. (Baby Relax and Chamomile Baby Rub after bath too).  Since the addition of the Breathe Ease and Protection 2x daily, I have noticed a great improvement in his breathing. We haven't used his albuterol inhaler at all! He has had way less mucous than usual, and I've only heard him sound crackly a couple of times. Prior to Breathe Ease and Protection Concentrate, he sounded like crap day in and day out. When I say chronic, the reactive airway disease diagnosis seemed accurate; he had been having symptoms 24 hours a day for months and months.
15ml/1/2oz euro dropper bottle