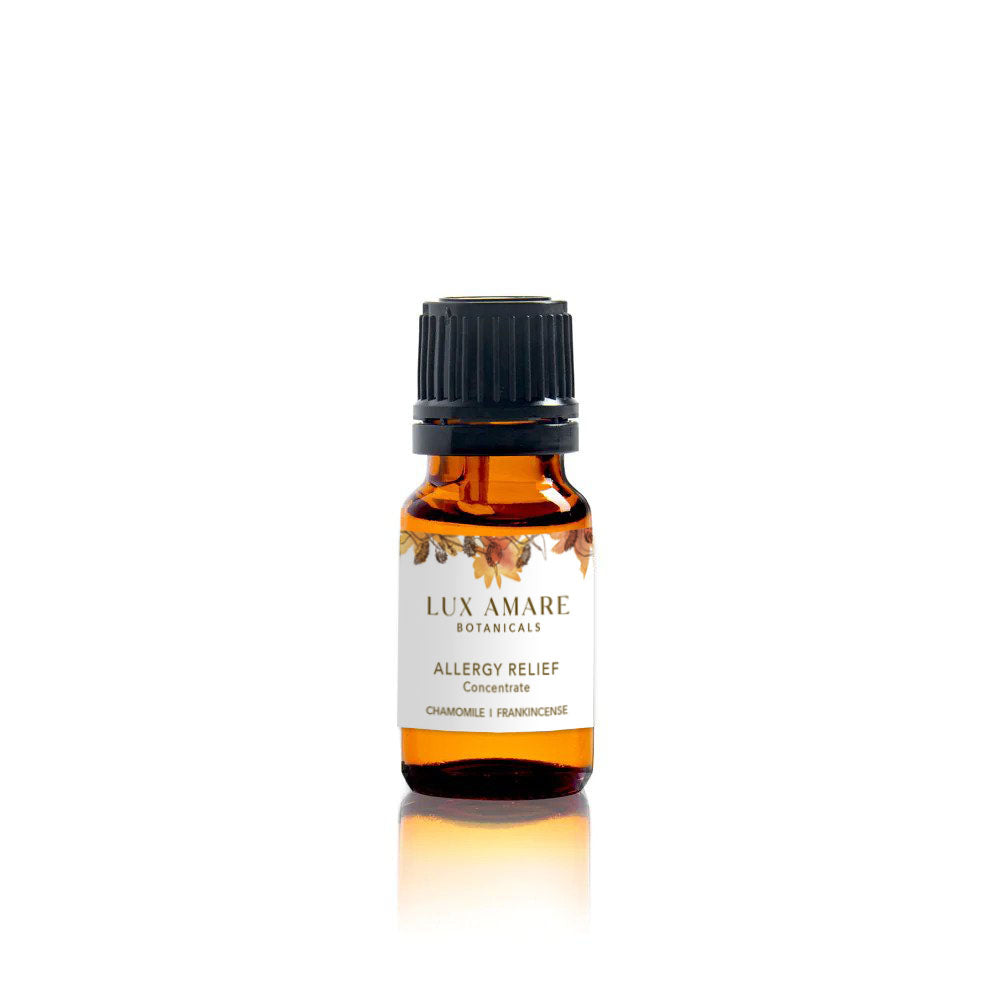 Description
Benefits
Concerns

Ingredients

Testimonials

Options

A lovely blend to help ward off symptoms of allergies brought on or aggravated by seasonal changes and environmental irritants; itchy, watery eyes, runny nose, and sneezing. Sharpens the mind as breathing is deepened.
If the beautiful season of Spring sets your teeth on edge due to the suffering it brings, you owe it to yourself to get relief.
Distribute 1 drop/10 lbs body weight under nose, to nostrils, under eyes (not too close – oil migrates!), neck and chest. Rub remaining 1-2 drops briskly between palms and inhale deeply.  Follow with a sigh of relief.
Allergy Relief is also helpful for other reactions to allergens:
sneezing
wheezing
nasal congestion
coughing
itchy, watery eyes
runny nose
itchy throat
stomach ache
itchy skin
hives
fatigue
irritability
Soothes itchy, watery eyes.
Calms frequent sneezing.
Eases runny nose.
Deepens the breath.
Clarifies the mind.
Itchy, watery eyes.
Runny nose.
Persistent sneezing.
Shortened or shallow breathing.
Foggy thinking.
Proprietary blend of expertly selected, pristine, organic essential oils formulated in a base of fractionated coconut oil, ready for direct application.
This blend works great for allergies. I had to take it to work where my allergies are the worst.
The Allergy Relief oil blend is simply amazing! I haven't had even an hour in the past few weeks without painful allergy symptoms. I've used the oil for barely 4 hours and I haven't had any itchy eyes or congestion at all. Thank you so much.
If you are suffering from allergies, seriously try Lux Amare Allergy Relief blend. Elizabeth Reynolds is one of the sweetest women I know, with years of experience making essential oil blends. Months ago she inspired me to introduce essential oils into my life, and I've never looked back. This Spring I've had the worst allergy symptoms, and her Allergy Relief blend is the only respite I've had! Liz, you are truly amazing.
I ended up buying my cousin the Allergy Relief serum and the Lux Amare Acute Derma Soothe. I'm happy to report she hasn't used Zyrtec in over a week!!
I suffer from asthma & allergies. I tried Lux Amare Breathe Ease for the asthma and the Allergy Relief for my allergies. Both have worked AMAZINGLY!!!! Thank you so much Lux Amare!!!!
I'm in LOVE with your Allergy Relief blend…I'm able to be off all my previous five medications by using your oil! It's truly life changing! I'm so happy I found your products and you as a resource!
15ml Amber Euro dropper bottle