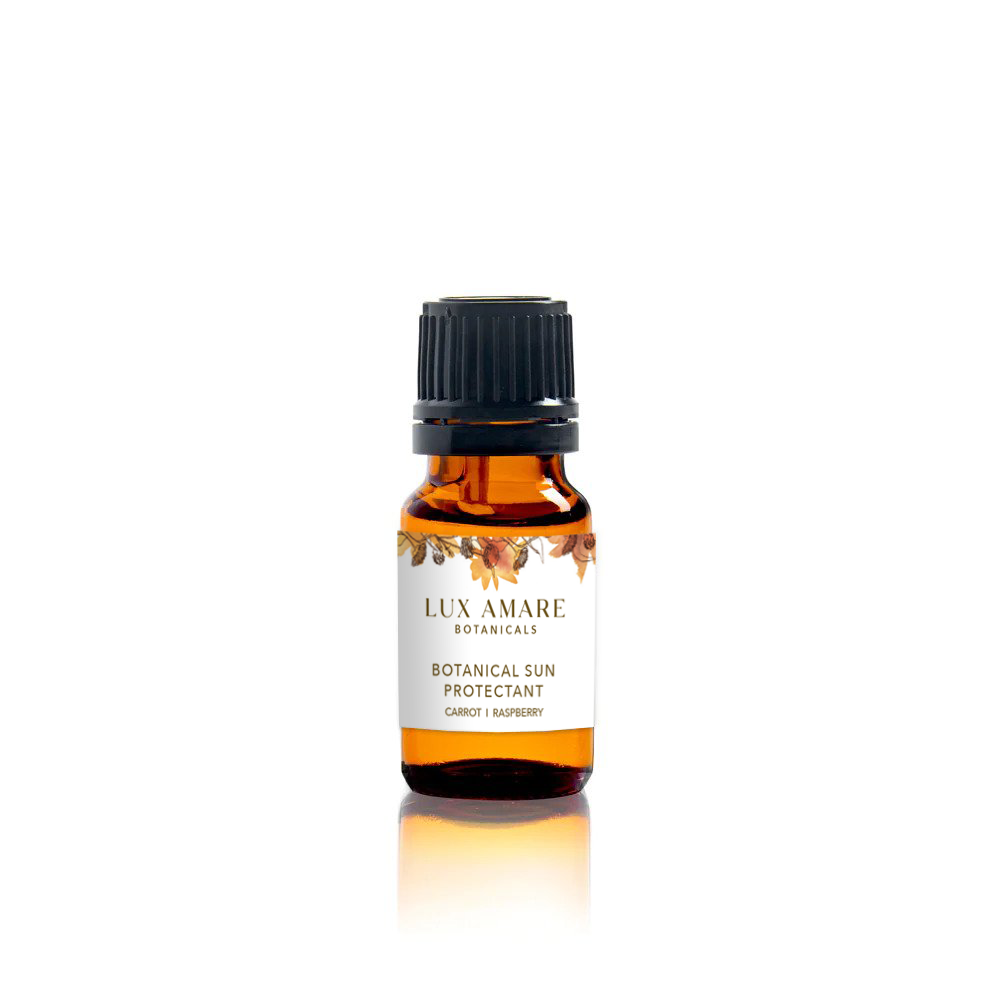 Description
More Information

Benefits

Concerns

Ingredients

Testimonials

Options

Botanical Sun Protectant is a 100% pure botanical serum containing only organic seed, nut, and flower essential and carrier oils known for their anti-oxidant properties and their skin healing abilities.
It is ideal for mild exposure, early morning and late afternoon hours, running errands, and the daily commute.
This nourishing facial serum helps to support the skin's ability to fight free radicals caused by the damaging rays of the sun. It also heals the skin while providing a radiant glow. Only 4 drops are needed for the entire face. It can be safely applied anywhere, to anyone.

Healing, regenerating, antioxidant and anti-inflammatory, Vitamin E and EFA rich. Contains no zinc or titanium oxides (physical sunblock ingredients).

Ideally applied prior to sunscreen containing zinc oxide. 
Meticulously formulated by Master Aromatherapist Elizabeth Reynolds
Note: It is not possible to determine or claim the exact SPF of this product.
Healing, Regenerating, Antioxidant
Anti-inflammatory, Broad-spectrum UV-shield
Vitamin E and EFA rich.
Daily light moisturizing sunscreen
Natural sun protection
Zinc oxide sensitivity
Proprietary blend of pure, organic seed, nut and flower essential oils, known for their natural sun protection and skin healing abilities.
Love using your Botanical sunscreen — and am so relieved I never have to put any icky chemicals on my face. Thank you forever!!!
I love how the Botanical Sun Protectant makes my skin feel. My face did the happy dance. lol
Just got my Botanical sunscreen serum. It goes on so smoothly and smells great! Thank you Elizabeth Reynolds for this!
I love the Botanical Sun Protectant Serum! I put my Isis Triple Strength Activating Serum on first….especially around my eyes, lips, and neck, and the Botanical Sun Protectant Serum on my face, neck, and décolletage …..I am spoiling myself and my skin is loving it!!!!!
I'm an Irish-Welshie with very fair skin and always have to have some sun protection. I wear the Botanical Sun Protectant serum every day. For direct sunlight outdoorsy beach days I'll put the Botanical Sun Protectant serum on first then then the Lux Amare Therapeutic Sunscreen 25+ that has the zinc oxide.
I have had Lux Amare's no ZINC OXIDE sunscreen (just pure botanical oils) for at least 8 months–I use it almost daily–it works great! My facial skin can be sensitive to the zinc oxide sunscreen (although I have and use that too–mostly on my body) –also made by Lux Amare–it's nice to have both and use alternately or together! xoxox