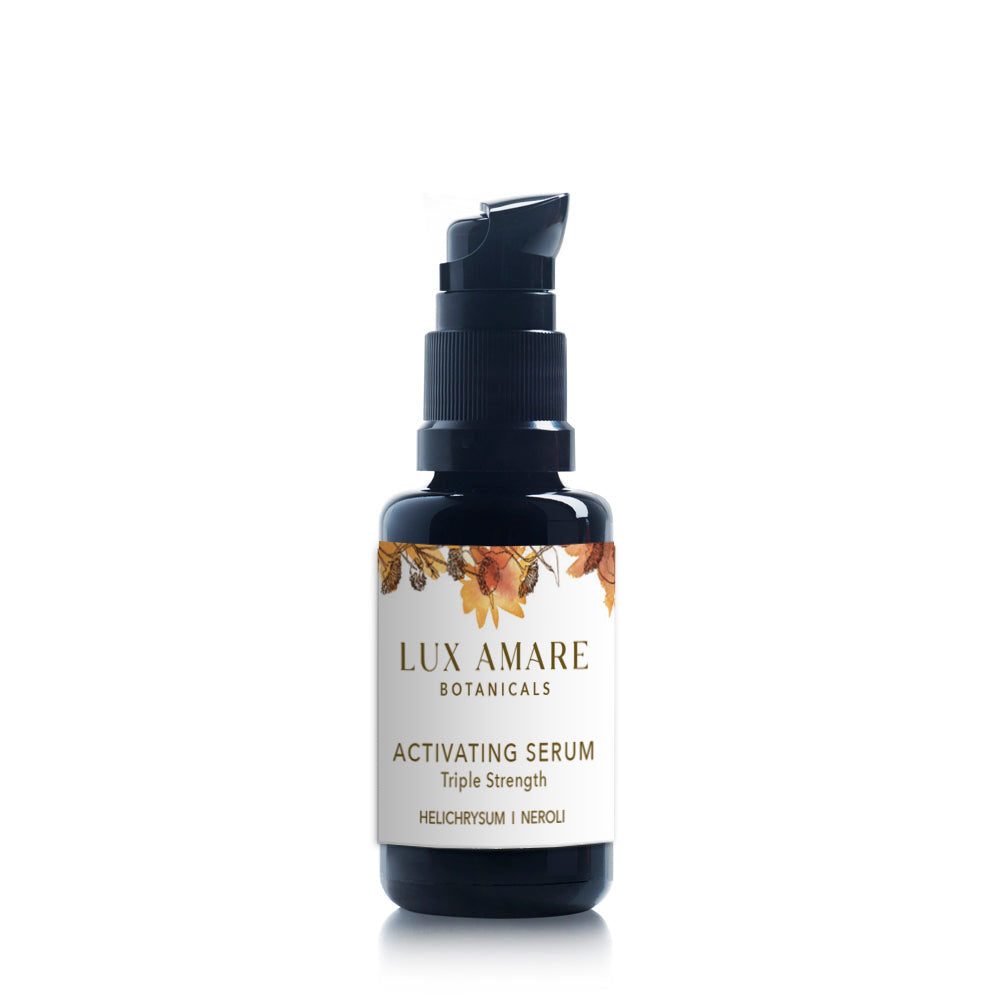 Activating Serum Triple Strength
Description
More Information

Benefits

Concerns
Ingredients

Testimonials
Revitalize skin and restore radiance with this potent blend of fifteen of the world's most effective botanical skincare essences. Daily application of this aromatic elixir restores resilience and provides effective protection against the signs of aging.
Available in Regular and Triple Strength.
All skin types.
Restore dull skin to its natural radiance with this powerful blend of rejuvenating extracts.  Activating Serum Triple Strength promotes the same restorative effects as the original Activating Serum but with triple the potency. A medley of exotic essences makes Activating Serum the world's premier complexion treatment. Among these are Helichrysum from Corsica, renowned for its anti-inflammatory and regenerative properties, restorative Tunisian neroli, Omani frankincense, celebrated for its healing properties, and soothing Bulgarian rose. For everything from reducing fine lines and wrinkles to hydrating dry skin, and helping to minimize hyperpigmentation and scarring.
Hydrating, anti-inflammatory.
Non-toxic, non-irritant, non-sensitizing
100% active ingre­di­ents. 100% pure, botan­i­cal, organic.
15ml/.5oz     30ml/1.0oz
Restore healthy, radiant skin with nature's most powerful botanical oils.

Provides skin with potent anti-oxidant, hydrating and anti-inflammatory extracts.

Indulge senses with exotic and luxurious aromatics.
Fine lines, wrinkles.
Dull, lackluster skin.
Hyperpigmentation, scars.
Mature and dehydrated skin.
Highest quality organic essential oils of Corsican helichry­sum, Tunisian neroli, Omani frank­in­cense, French laven­der, French helichrysum absolute, cal­en­dula, car­rot seed, rose­hip seed, borage, seabuck­thorn, evening prim­rose, patchouli, palmarosa, Moroccan & Bul­gar­ian rose absolutes in a base of organic rosehip seed oil.
My results with the Activating Serum have been amazing. I'm still seeing improvement and it's been well over a year.
I am so in love with the Lux Amare skincare. What an amazing gift. It's true, I'm madly in love. It's so delicious!
I have only been using the Luxury Skin Care Oil and Activating Serum for a week and my skin looks and feels so smooth and beautiful. Small red spots on my face are disappearing. I was contemplating going to the dermatologist to see what they could do about them. Now I don't have to. To have my skin look and feel beautiful again is amazing. Love it.
I just washed my face with the Luxury Skin Care Oil, followed with the Bulgarian Rose Hydrating Toner and 3 drops of the Activating Serum. My skin is already much better and feeling wonderful. Did I mention this is the first time I'm using these amazing products!?! Thank you, thank you, thank you!!! Your products make me feel beautiful.
Activating Serum Triple Strength